Plant
We're encouraging everyone to connect with eco-groups in our region, and to get their hands dirty.
Workbees
We envision Workbees as "learning by doing" opportunities in landscape regeneration. Workbees put knowledge into practice, they engage participants actively by putting knowledge into the local context. Workbees are experiential learning events that get work done. Hosts offer workbees because they want to engage with community, and because they need community support to get things done. And participants offer their time because they want to help get things done, while learning the theory, receiving coaching for how to work practically, and because they want to connect with likeminded folks from the community.
Native Seed Packets
We have acquired native seeds for pollinator gardens. The best time for seeding these is in fall (October-November), because many native seeds require a winter to be "activated". The best way of preparing an area for seeing is by covering it with cardboard and wood chips, for weed suppression. If you want to participate as a gardener, please start by prepping the area and contact us for seeds. If you want to work with a group, e.g. as an educator, please contact us!
Native Plant Supply Chain Strategy Group
Timelines and supply of native plants are quite different than the common garden cultivars. The supply of native plants remains a barrier to restoration, especially for the restoration of larger areas and for commercial landscaping. Also, native plantings must respect nature's seasonality, with best planting times in late fall or early spring. We are working to build networks of farmers/growers, seed collectors, and landscaping companies to re-establish native plant cover in our human landscapes. More in our 2nd Regenerator newsletter here.
Miyawaki "Tiny" Forest
With generous support and a TON of community volunteers, Regenerate Grey Bruce has installed a Miyawaki "Tiny" Forest in Wiarton, at Peninsula Shores District School (PSDS). Photos of planning, planting and it's progress are continually added to this shared album here.
Our first Wiarton Miyawaki Forest Newsletter, announcing the project, is available here
Our second Newsletter, about the concept, is here
Our third Newsletter, halfway through planting, is here
Our fourth Newsletter, post-planting and studying it, is here
One more Miyawaki Forest Newsletter is coming studying it's growth, so email us at scaleupprojects (at) gmail (dot) com to receive that on time!
A Miyawaki Forest is a highly diverse design where trees are planted with high density and diversity. They are approximately the same size as a tennis court, and planted with approx. 1 tree per square foot - much denser than conventional plantings. Experience is showing that robust and diverse ecosystems emerge, with high density of birds and insects. A large bioswale has also been planted adjacent, to make use of nearby stormwater runoff with an aim to keep the forest soil moist.
Signage and curriculum resources will help educate visitors and integrate this project with curriculum learning. Project partners include the Wiarton Rotary Club, TD Friends of the Environment, Stewardship Grey Bruce, Lake Huron Forever and of course the Bluewater School Board, PSDS & The Sustainability Project.
Regenerate Grey Bruce is hoping to use the experience with PSDS as a replication template, because other Miyawaki Forests can be established at other schools!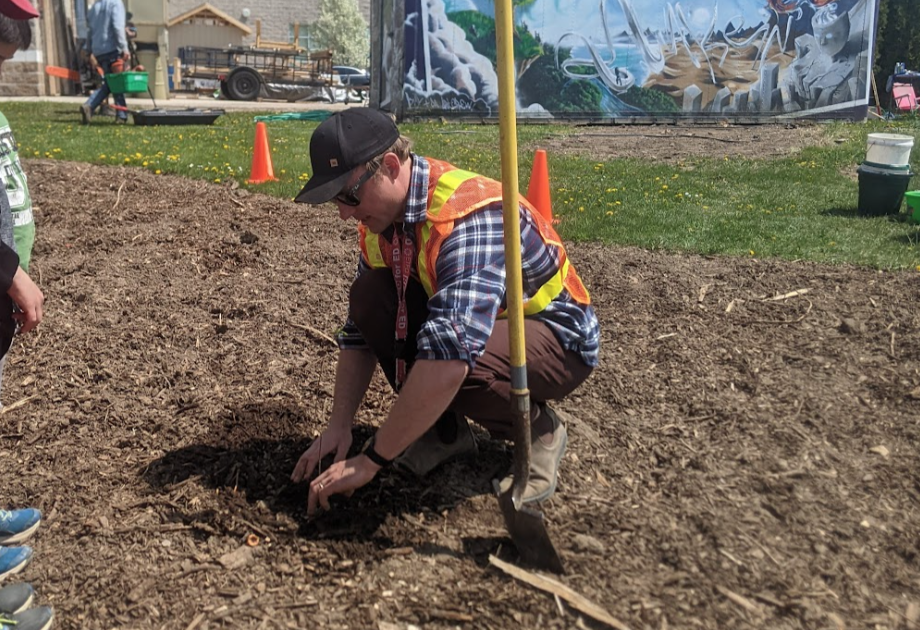 More to Come
The overall aim is to address the barriers community members face in regenerating their surrounding landscapes i.e. planting native plants; supporting a regional native plant supply chain; and, bringing together nursery owners, farmers and seed collectors, etc.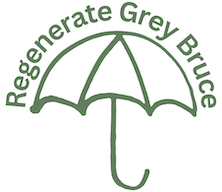 Don't Forget!
Remember, the goal of RGB now is to amplify this emerging narrative we've uncovered, the collective and individual stories we tell ourselves, about ourselves, acted out in real time through our decisions and actions. You can take action by:
PLANT (POLLINATORS and NATIVE SPECIES): Addressing barriers community members face in regenerating their surrounding landscapes i.e. planting native plants; supporting a regional native plant supply chain; and, bringing together nursery owners, farmers and seed collectors, etc.
SHARE (YOUR STORY): Publishing, Highlighting and Inviting more stories into the emerging narrative to i.e. Regeneration Stories, Presentations, StoryMap, Social Media, Signage/Messaging, etc.
INSPIRE (TO JOIN): Directly inviting friends, family, co-workers, etc. to join the work i.e. Theory of Change, Guide for Intergenerational Collaboration, YCAC collaboration, Wiarton Tiny Forest Collaboration, RGB Seed Collectors, etc.
Return to Regenerate Grey Bruce project page here