Moving from Knowing to Acting at Climate Forum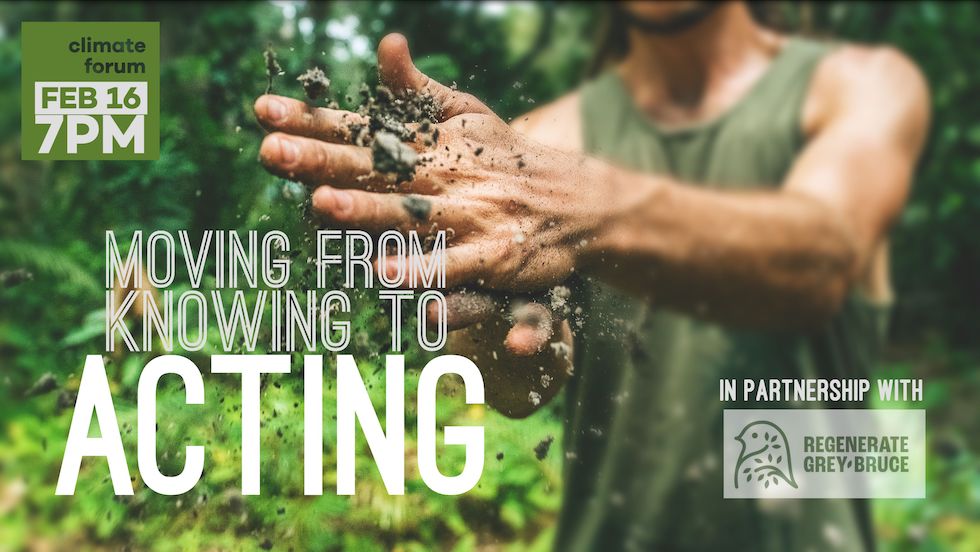 Our Climate Forum episode this Thursday February 16th, 2023 will feature Madeline Marmor as guest host, a staffmember of Regenerate Grey Bruce.
The goal of the evening is to learn with attendee's how to move from a listening/learning level of engagement to a 'doing' or 'acting' level in regenerative work in the region. RGB staff will be presenting on how 'narratives building' can be useful in group change, and opening up room to understand the power of 'courage' i.e. The First Follower principle in addressing social, emotional and mental barriers to change.
PANELISTS:
Katrina McQuail, (she/hers) Meeting Place Farm
Katrina farms regeneratively at Meeting Place Organic Farm with her partner, children and semi-retired parents. A farmer, parent, and a PADI certified scuba instructor, Katrina is deeply concerned about caring for the environment and mitigating climate change.
Tim Harrison, OPEN Group, and Owen Sound & North Grey Union Public Library
Tim Nicholls Harrison has worked for the Owen Sound & North Grey Union Public Library for the past 35 years, first in literacy and adult education, now as CEO and Chief Librarian. The OPEN Team includes the Tom Thomson Art Gallery, The Billy Bishop Museum, Community Waterfront Heritage Centre and the library. The four regional institutions have been working on collaborative activities for our community. The multi-year Native Plant Pollinator Corridor Project, which is currently in development in cooperation with community members, is one initiative. The OPEN Team anticipates that the project will also engage many more community partners as it seeds and grows.
Simona Freiberg, Community Garden Network
Simona is the local Earth & Community Activist. Simona is as passionate about growing community as she is about growing food in a natural earthy way. Simona is an active member of The Sustainability Project, Transition Meaford and currently is leading a Community Garden Network in Grey Bruce Region including the famous Gleaning Program.
The fun viral video here shows the First Follower principle, in action. if the link doesn't work you can copy & paste this into a browser to view: https://www.youtube.com/watch?v=fW8amMCVAJQ
Madeline will be asking panelists some questions:
What does the First Follower Principle make you think of in terms of your climate action personal work as a regenerator?
Did someone inspire courage in you to start the initiative/work you do?
How does your engagement in regenerative work in the region inspire others to move beyond education into action?
How is what you do replicable, and so accessible, for others to follow?
....and you'll be inspired by the answers!
So it's really more about making change than about specific regenerative actions, although we will want to hear about your work as well.
Please RSVP for this Thursday's Climate Forum at www.tiny.one/climateforum or click here