Election Candidates can Multisolve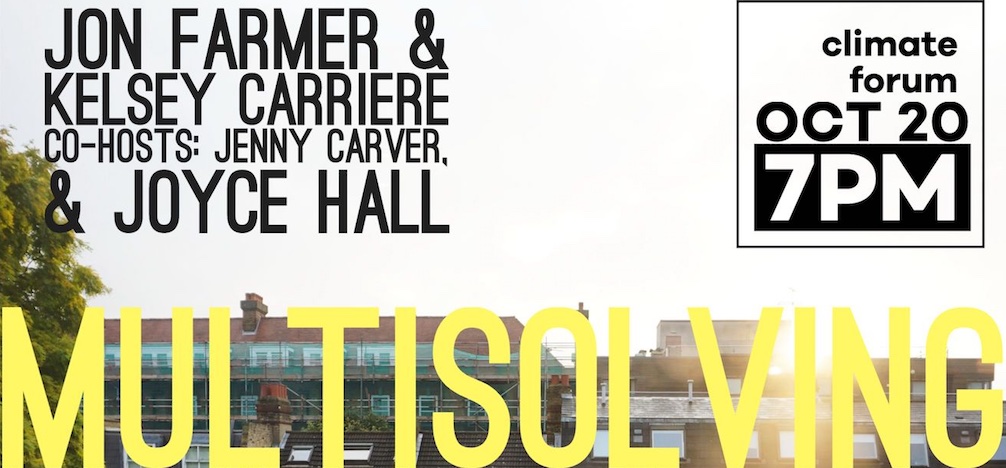 guest post by Joyce Hall, GBCAN
NOTE: an earlier version of this post stated incorrectly that Jon Farmer was a candidate for mayor, when he is a candidate for council. We regret the error.
Do voters have to choose among urgent priorities when choosing their candidates?
Owen Sound, ON: What voter wants to put affordable housing before food security before economic development or a thriving agricultural sector? And who wants to put any of those before the need to address the climate crisis?
Maybe we don't have to choose.
Join Climate Forum on Thursday Oct 20 at 7 pm for a wide-ranging discussion among candidates, climate experts, green economy proponents and community planners on multisolving. Multisolving is an approach where multiple problems are addressed by common solutions.
"Our communities are facing many complex and connected challenges. Looking at them in isolation hasn't worked and it's time we take action to address their common roots. Multisolving gives us a framework to make that happen," says Jon Farmer, candidate for Owen Sound council.
Joyce Hall, guest host of the forum and member of the Grey Bruce Climate Action Network, explains. "When I became concerned about climate, I thought I had to give up on advocating for affordable housing. The climate is more urgent, I was telling myself. Then I noticed that there's actually an overlap when it comes to solutions. It was a big 'aha' moment."
The upshot for voters? Look for creative candidates who can solve across sectors. We need them in force at the local level.
Climate Forum is hosted online each month on "Third Thursdays" in order to discuss local angles of climate action, and is presented in part by The Sustainability Project, whose vision is "to create a culture of sustainability in our region". More information about Climate Forum can be found at www.thesustainabilityproject.ca