Eastern White Cedar Workshop
Learn to understand plantation management and making of ornamental garden art

with Regeneration Mentor Tom Ashman, Rural Rootz
Regenerate Grey Bruce is offering its first outdoor workshop that will focus on aspects of the life-cycle of eastern white cedars that are native across vast tracts of Grey Bruce.
This outdoor workshop will showcase positive maintenance strategies for cedar tree forests that will improve biodiversity and make opportunities for succession. Eastern white cedars make strong split rail fences, insect and rot-resistant cedar fence posts and are pliable to make ornamental gardening structures that can last decades in the outdoor environment. Participants will learn how to make cedar garden art, cedar fences and trellises, as well as learn how to prune and manage cedar forest plantations in swampy areas to promote new growth.
The workshop will be led by long-time builder and gardener Tom Ashman from Rural Rootz. This in-person outdoor workshop will be hosted by Persephone Market Garden near Park Head.
Event Details:
Date:
Sunday May 8th
Time:
10am-noon Walk: Regenerating plantations & collecting material
1pm - 3pm Workshop: arcs and ornamental gardening structures
Location:
Persephone Market Garden, Park Head (South of Hepworth)
Notes:
To register, please send an email to contact@thorstenarnold.com .
Cost is by donation.
Please bring sturdy & weather appropriate clothing, and lunch for an outdoors meal!
Hot drinks will be provided.
No tools or previous knowledge necessary.
More Information:
In the morning, workshop participants will walk through several plantations at various succession stages. Participants can witness how different management interventions impact the regeneration of biodiversity by allowing for ecological succession. Participants will then learn to select native materials for ornamental structures.
In the afternoon, participants will work with the material to design and build ornamental structures - arcs, arches, ornamental fences and trellising. With a few technical tricks, these structures are easy, fast, and use 100% native materials that preserve and celebrate the character of this landscape vista. Also, by supporting a market for a diverse range of cedar materials, gardeners support manual logging methods that is more suitable for plantation regeneration.
Cedar, also called "the tree of life", provides a native building material that has been used by indigenous dwellers and settlers alike. The early settlers in this region took fencing into a form of art, defining the image of this landscape for more than a century. Cedar fences have not only kept cattle from roaming onto roads and neighbouring properties. They provided spaces for hedgerows and windbreaks, which protected agricultural land from wind erosion, roads from snow drifts, and provided habitat for animals and insects.
About Regenerate Grey Bruce and The Sustainability Project
The project Regenerate Grey Bruce is building a network of practitioners in landscape regeneration from our region, while formulating a narrative of hope for this region's landscape in our changing climate.
The hosting organization is The Sustainability Project, formerly known as Grey Bruce Sustainability Network. This not-for-profit brings together community members who reside in this region, the Traditional Territory of the Saugeen Ojibway Nation, who are dedicated to creating a culture of sustainability. Our board members are civic leaders and champions of at least one community project that creates positive change. Together we're learning about climate action, resilience to extreme weather, landscape regeneration, climate justice, food security, and the whole doughnut in doughnut economics.
Contact:
Thorsten Arnold, Project Coordinator
Tel: 519 935 3005 - afternoons after 2pm
contact@thorstenarnold.com
www.thesustainabilityproject.ca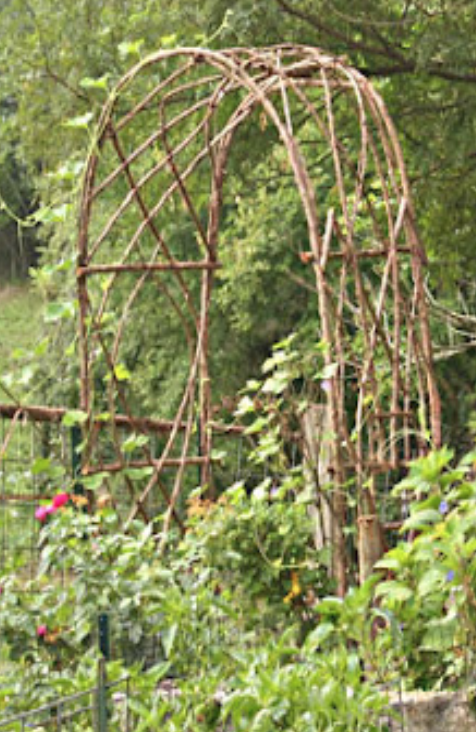 Bentwood ornamental structure