Earth Day Grey Bruce 2023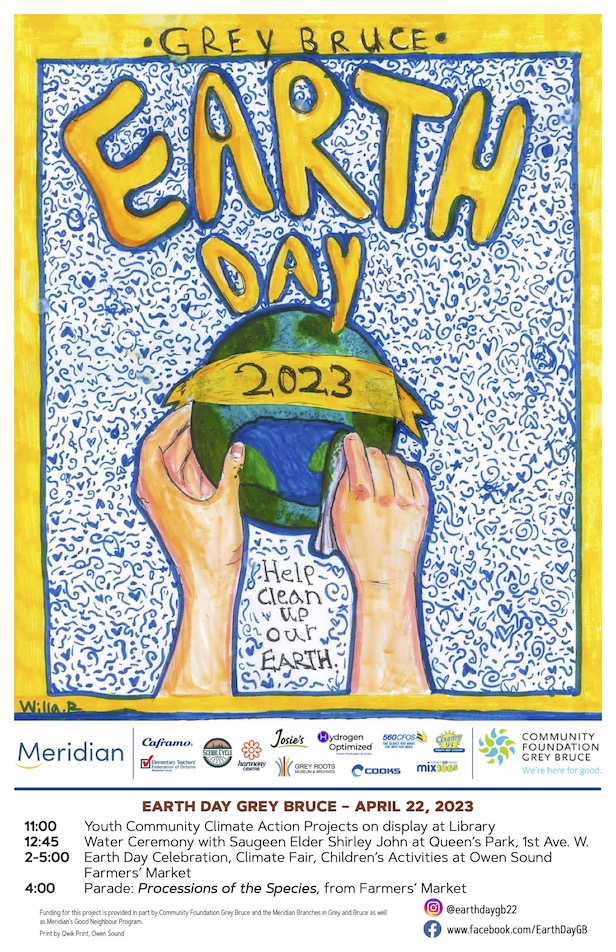 Saturday, April 22, 2023, is Earth Day - a day to come together around the protection of and appreciation for our environment. Last year, the Earth Day Celebration at the Owen Sound Farmers' Market was attended by over 600 people. This year organizers are hoping it will be even bigger. And with performances by O'Sing, G.R.I.N.D., the Durham Sauntering Band, Saugeen Sound Conspiracy, Poet Laureate Richard-Yves Sitoski, Wildflower Dance Arts, and the Sheatre 'Act for Climate' group, this year's event will certainly be a chance to make some joyful sound.
This year, the event will begin at 11 a.m. with an exhibition of Youth Climate Action Projects on display at the North Grey Union Public Library and displays at the Tom Thompson Art Gallery.
Then at 12:45 p.m. there will be an opening Water Ceremony at Queen's Park on 1st Ave.W. (across the road from the library and gallery). with Shirley John, Strong White Buffalo Woman from Saugeen First Nation, with support from the M'Wikwedong Hand Drumming Group and the M'Wikwedong Indigenous Friendship Centre.
Come learn about the businesses and organizations pioneering the green transition locally at the Climate Fair, enjoy live music and visit the Children's Area, where there will be face painting, sidewalk chalk and henna, from 2:00 to 5:00 p.m. at the Owen Sound Farmers' Market.
The Procession of the Species parade, which everyone can join, will be led by the Durham Sauntering Band and will feature puppets, masks and costumes reflecting the theme of endangered wildlife, starting from the Farmer's Market at 4:00 p.m.
Everyone is encouraged to bring wildlife art, stuffed animals, or costumes to give wildlife a visible presence at the Earth Day Parade.
Organizers are hoping the celebration will energize and empower people to make change happen.
Joachim Ostertag, one of the organizers of the Earth Day Celebration, says, "Earth Day offers a great opportunity to bring together and engage our communities, and to inspire each other as we celebrate our planet. We do this recognizing the seriousness of the climate crisis, and that we all play our parts, small and big, in making the changes needed. This event will show the many ways we can proceed to keep our planet livable for all."
The Earth Day Grey Bruce Planning Committee gratefully acknowledges generous support from the Meridian Branches in Grey and Bruce and from Meridian's Good Neighbour Program, as well as the Community Foundation Grey Bruce. We would also like to thank our sponsors, including Caframo, Cooks, Grey Roots Museum and Archives, Hydrogen Optimized, Josie's of Wiarton, the Elementary Teachers' Federation of Ontario, Mix 106.5, Country 93, and 560 CFOS, and to acknowledge the Grey Bruce Labour Council donation.
To follow Earth Day Grey Bruce 2023 developments, follow the group's Facebook Page at www.facebook.com/EarthDayGB and on Instagram via @EarthDayGB22
Poster is available here: Poster-v2PROOF (1).pdf