Film Screening - Regenerating Life - Part 3 with Farmers
Venue: Bayshore Community Centre
City or town: Owen Sound
Street address: 1900 3rd Ave E
Postal code: N4K 2M6
Start Date: Thursday, October 26 @ 19:00
End Date: Thursday, October 26 @ 21:00
Host name: Owen Sound Field Naturalists & Regenerate Grey Bruce
Host email: web@osfn.ca
Host Web site: https://www.regenerategreybruce.ca
About This Event
Regenerate Grey Bruce screened Parts 1 and 2 of the new film Regenerating Life, at the Bayshore Arena, on October 12th 2023. It's advised to arrive early preceding the screening, 630pm arrive, 7pm start.
There will be a panel discussion with farmers, (Special Guest Panelists will include Amanda Klarer from Regeneration Canada, Brenda Hsueh from Farmers for Climate Solutions, and Kristine Hammel from Eat Local Grey Bruce.) at the Bayshore Arena, on October 26th 2023 from 7pm to 9pm, hosted by OSFN with everyone welcome.
However, we will also do our best to offer the presentation virtually as a webinar, via zoom. If you are feeling unwell but wish to come, please choose this option.
To receive a zoom link, please send an email, in advance, to web@osfn.ca with "regenerating" in the subject line
"Regenerating Life" takes an ecological look at the environmental crises and by challenging the prevailing climate change story and offers new, attainable solutions.
This screening is FREE to Owen Sound Field Naturalists members, otherwise it's "by donation" (suggested donation is $15) or by pre-sold tickets via Eat Local Grey Bruce e-commerce portal
---
Thursday, October 26 at 7 pm, at the Bayshore Community Centre, OSFN presents Dr. Thorsten Arnold with part 3 of the new film Regenerating Life by John Feldman. Included after the film segment will be a Q&A, as well as a panel discussion about opportunities in agriculture, as well as barriers.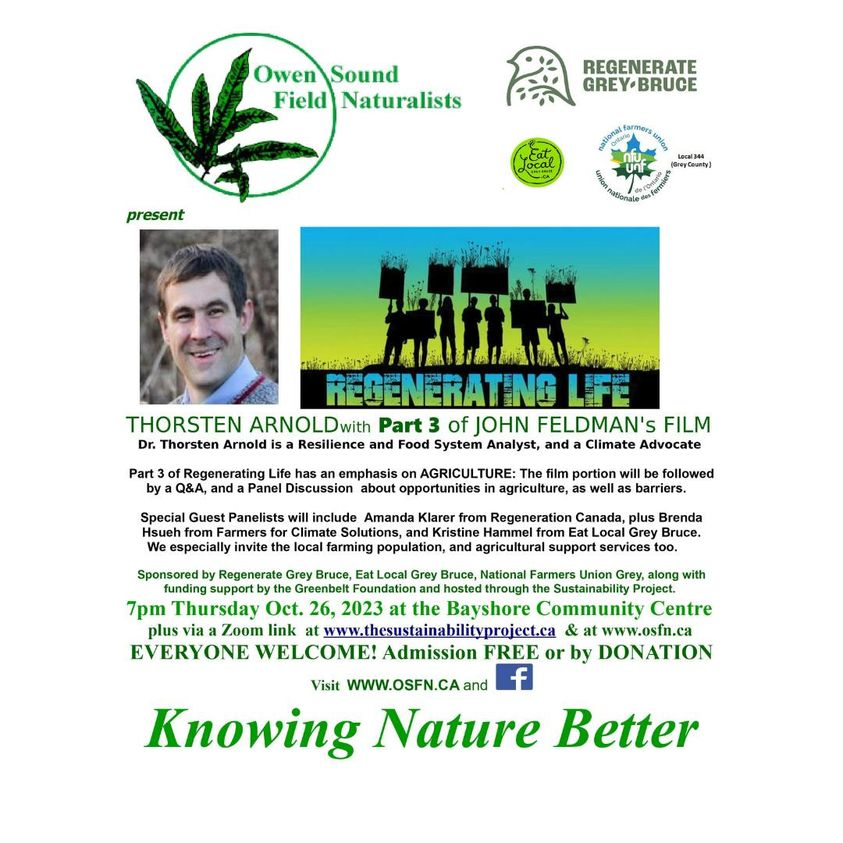 Although this presentation should interest everyone, we especially wish to invite the local farming population and those engaged in agricultural support services, too.
For best results, we encourage attending this event in person at the Bayshore Community Centre, in Owen Sound, arriving soon after 6:30 pm to meet and/or socialize with others in attendance prior to 7 pm.
Zoom is available. To receive a zoom link, please email web@osfn.ca with Regenerating in the subject line.
The film will discuss: How to stop the main degradation and make our food system regenerative - small-scale farmers around the world are fighting to regenerate landscapes by producing food agro ecologically, to preserve biodiversity and restore nature's ability to self regulate its climate. The third part is mostly around how to stop killing the biosphere, and the main need is in changing our food system toward "farming in partnership with nature" - small-scale ecological farming. Globally, this already is providing 70% of all foods-
The film's Director, John Feldman never intended to talk about agriculture, but said that it makes no sense to talk about living landscapes/biodiversity WITHOUT talking about agriculture. Our treatment of the living landscape is the unnecessary tragedy of humankind...
Regenerating Life
How to cool the planet, feed the world, and live happily ever after
A film by John Feldman

"Regenerating Life places the Climate Crisis squarely in the biosphere, where it has always belonged."– James Shapiro, Prof. Emeritus, Univ. of Chicago