Wiarton Tiny Forest & Bioswale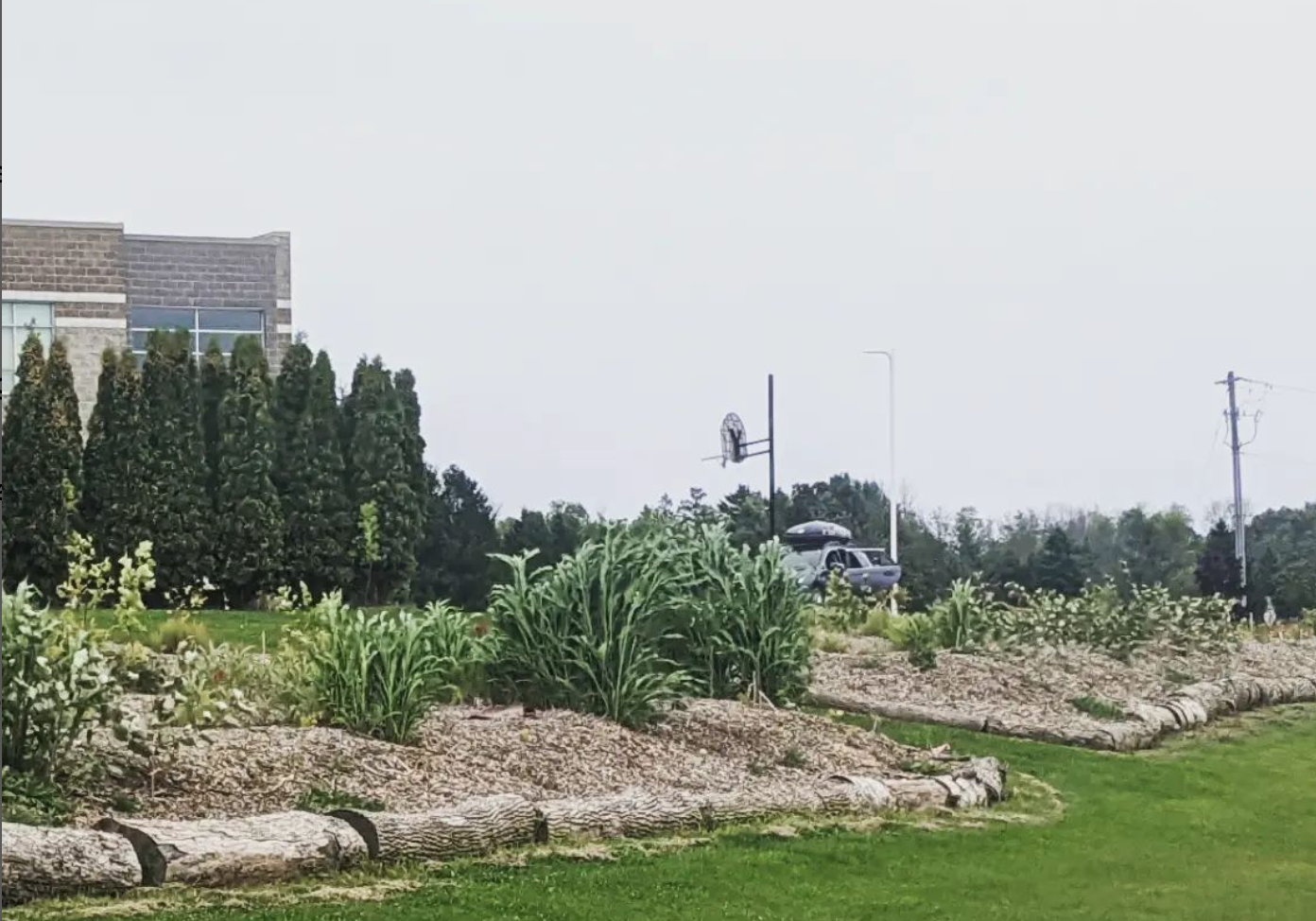 A demonstration site for "regeneration" has now been nicely established in the back playground of Peninsula Shores District School (PSDS) in Wiarton, implemented by Regenerate Grey Bruce (RGB).
Envisioned by Thorsten Arnold and with the assistance of Greenbelt Foundation, Wiarton Rotary, TD Friends of the Environment Foundation, Lake Huron Forever alongside many community partners and volunteers, the Wiarton Miyawaki Tiny Forest and Bioswale are now both firmly rooted in earth that was once home to finely-manicured lawn.
Today, volunteers unveiled some of the new signage that is to be installed. Regenerate Grey Bruce is counting on this demonstration site to showcase regeneration techniques to the public and to show that many objectives can be accomplished at once with a "commitment to caring" for a forest ecosystem.
"Regenerate Grey Bruce is a project that, when complete, is meant to spark an alliance of groups, and so this is a great chance to create trust and social capital between local organizations and people who are creating a brighter future," says Thorsten Arnold, project lead. "The site at PSDS encompasses much of what we're trying to convey with a commitment to care, some shared language, and some narrative building."
"The primary goal is to create an educational experience where students can see regeneration in action… one tangible example of "agency" we can have in the environmental crises we face," continues Arnold, "but we're also planting here to demonstrate biodiversity regeneration to the larger community through RGB. If we choose to act, we can foster biodiversity in an urban landscape that is currently highly simplified (sod), strengthen a local community network, and offer a public space for workshops and ceremonies."
A guiding principle of Tiny Forests, in terms of design, is to create: a) a canopy layer, b) a medium tree layer, c) a subtree layer and d) a shrub layer… all from native species of plants, shrubs and grasses, to create complexity in a new forest ecosystem and give a lifeline to biodiversity. "Biodiversity" can, of course, be flora and fauna, but can also refer to essential living systems such as soil food webs, pollinators and mycorrhizal networks between trees.
In addition to demonstrating solutions to biodiversity & climate crises, the co-benefits of what's been designed in Wiarton also include:
demonstrating a natural or "green infrastructure" stormwater management opportunity; a bioswale just below the rear paved lot,
resolving an issue with soggy turf in the ditch next to the school's running track,
creating some shady spots for hot days,
demonstrating the impact of volunteerism to kids,
creating a new sitting space to watch the sports field,
a climate science educational opportunity, and
linking land use, nature, and planetary boundaries concepts to our traditional climate action, to create agency in rural areas and with youth.
New signage and curriculum resources will help educate visitors to the demonstration site, and integrate this project with curriculum learning.
More information about the Wiarton Miyawaki Tiny Forest and Bioswale is available at www.regenerategreybruce.ca and a mini-documentary exists at www.youtube.com/watch?v=YT-OOSbIg0A
The organizers encourage others to add photos to the Collaborative Photo Album of the Demonstration Site at: https://photos.app.goo.gl/p84aBFRmNJaxwP8A9 to add to the qualitative observations being documented.
-30-
About Us
Many community members are actively working toward this shared goal of nurturing our region's landscapes such that they remain biodiverse and resilient into the future.
The project Regenerate Grey Bruce is building a network of practitioners in landscape regeneration from our region, while formulating a narrative of hope for this region's landscape in our changing climate. A new landscape narrative will require a collective effort of our community to change our relationship with the land, the way that we value the land's ecological functioning, and even how we value the land and the creatures that inhabit it. We can only do this together as a community. The organizers include local farmers Thorsten Arnold, Madeline Marmor and student Olive Borowski.
The hosting organization is The Sustainability Project, formerly known as Grey Bruce Sustainability Network. This not-for-profit brings together community members who reside in this region, the Traditional Territory of the Saugeen Ojibway Nation, who are dedicated to creating a culture of sustainability. Our board members are civic leaders and champions of at least one community project that creates positive change. Together we're learning about climate action, resilience to extreme weather, landscape regeneration, climate justice, food security, and the whole doughnut in doughnut economics.
The Greenbelt Foundation is supporting projects that increase plant cover in the Greenbelt & Niagara Escarpment.
Contact:
Thorsten Arnold, Project Coordinator
Tel: 519 935 3005 - afternoons after 2pm